Valentine will have freezing wind chills & temperatures for the rest of the week. Please ensure your student(s) is dressed in appropriate clothing to keep warm. Thank you!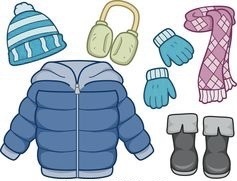 Valentine Middle School parents should have received a letter mailed on January 28th regarding their scheduled time for Parent Student Teacher Conferences on this Wednesday, Feb. 10th. If you are unsure of your time, please call the school at 402-376-3367.

Today's basketball games with Chadron have been postponed until Tuesday and we will start with the JV games at 4:00.

Speech Crew: We are not going to risk the trip today. Stay home. Sleep. Rest up for next week!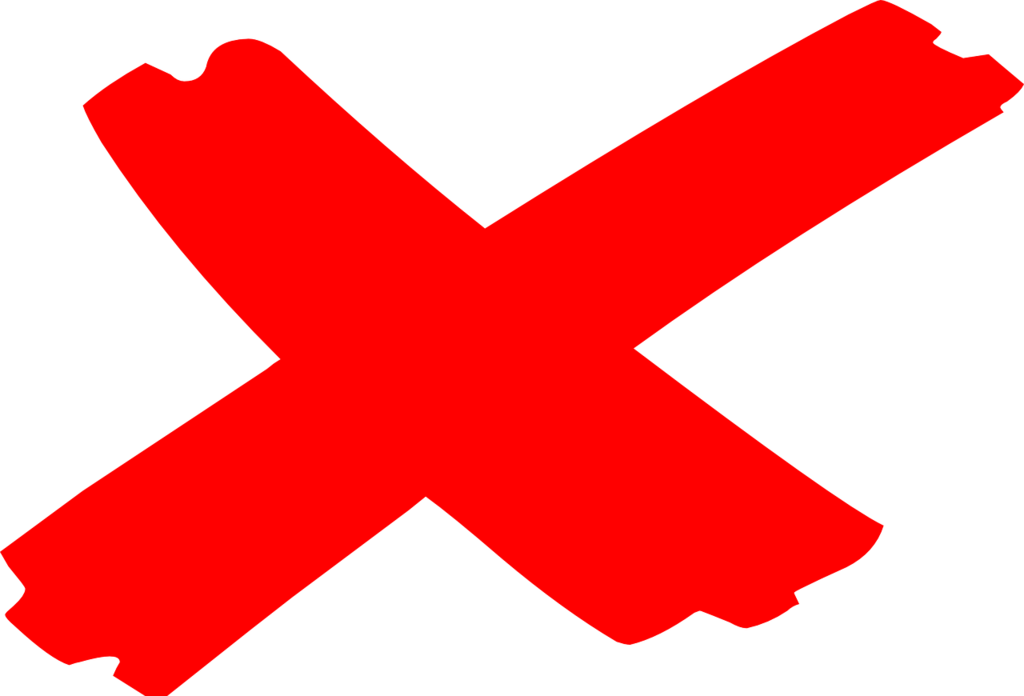 Next Week In Badger Nation: Tuesday: 5:00 MS Boys Basketball @ Rushville Thursday: 4:00 JV Girls Basketball @ HS - JV Boys @ MS 5:00 V Girls Basketball @ HS 6:30 V Boys Basketball @ HS No Restrictions on attendance. Mask must be worn. 5;00 MS Boys Basketball @ O'Neill Saturday: 11:00 District Wrestling @ Valentine. Attendance - limited to 4 people per wrestler. You must have your name on the list to enter the event. Mask are mandatory. This event will be live streamed on our website. Speech @ North Platte - Virtual

Thank you Bomgaars for the donation of tissues to Valentine Middle School!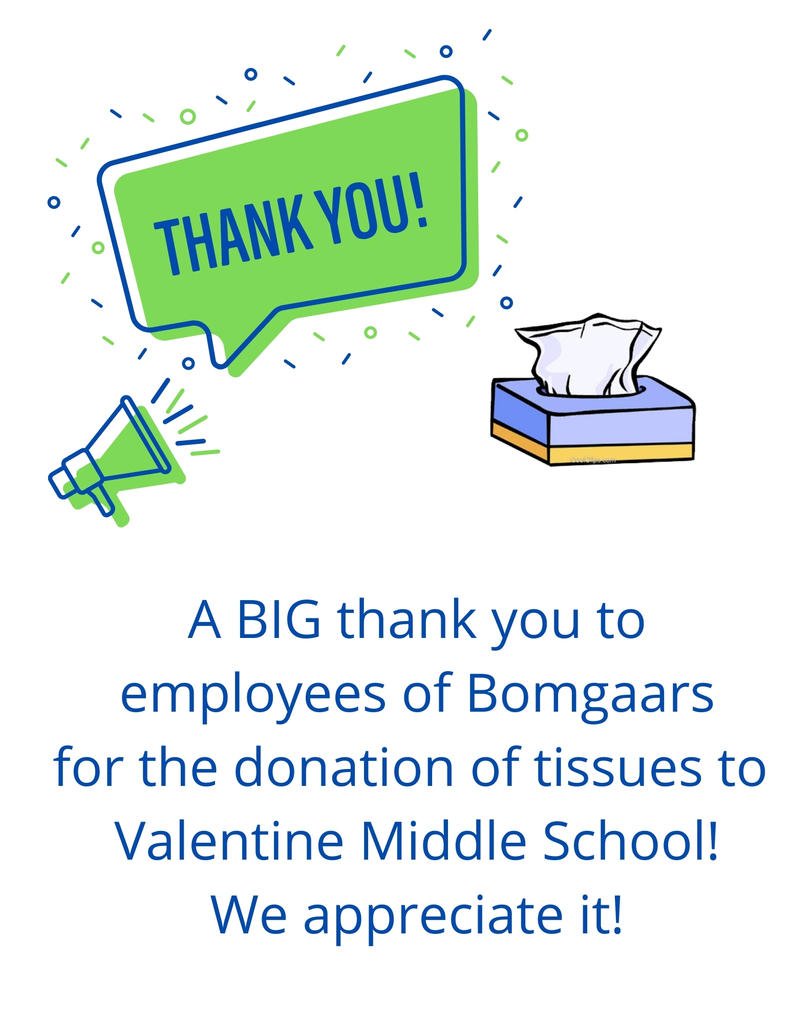 Watch our honor choir students perform live at the Chadron State High Plains Music Festival tonight at 5:00 MST:
https://www.csc.edu/kjzcradio/index.csc
. Way to go kids! We are proud of you! Go Badgers!


Any student interested in a career in law enforcement or just have a desire to learn more bout criminal justice you can find applications for the American Legion Jr. Law Cadet Program in the office. More information can be found on the website:
www.legion.org/juniorlaw/about


This week in Badger Nation: Monday: 5:30 MS Boys Basketball @ Bennett Co. - game is played at the elementary school not he west end of town Friday JV/V Basketball @ Gothenburg 5:30 - Varsity Girls and JV Boys 7:00 - Varsity Boys and JV Girls 2 quarters Live Stream Link -
https://www.youtube.com/channel/UCpSg9QMoJtUkc-az4UkPcFA/featured
Saturday TBA - Speech @ West Holt 11:30 CT - Sub District Wrestling @ Mitchell JV/V Basketball vs Chadron 4:00 JV Girls @ HS 2 quarters - JV Boys at MS 5:00 - Varsity Girls @ HS 6:30 - Varsity Boys @ HS

The VMS Student Council is helping out the Valentine TeamMates Mentoring Program Fundraiser to put together and raise money for college scholarships. Please spread the word and support this good cause. Students/Staff/Businesses/Anyone can go ahead and bring $ in or donate and the event will take place on March 19. Get your tape bought now!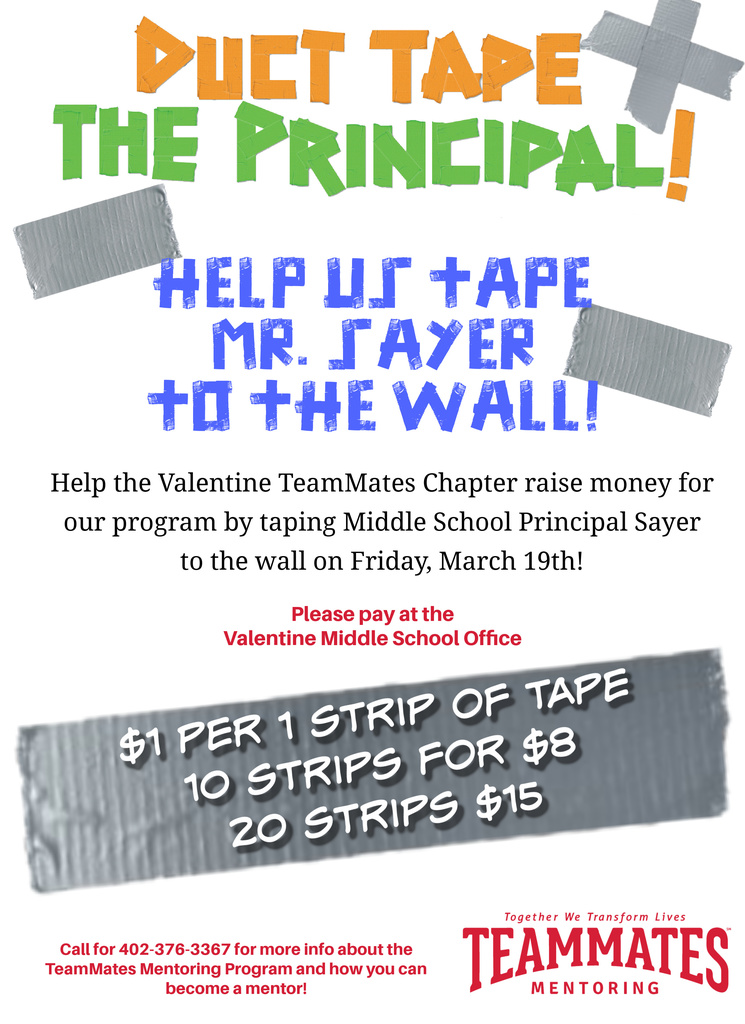 Valentine Speech Team traveled to Gordon today and took 1st place at the meet... Woot Woot! Help congratulate the Speechers on an awesome job. Everyone competed at the varsity level today.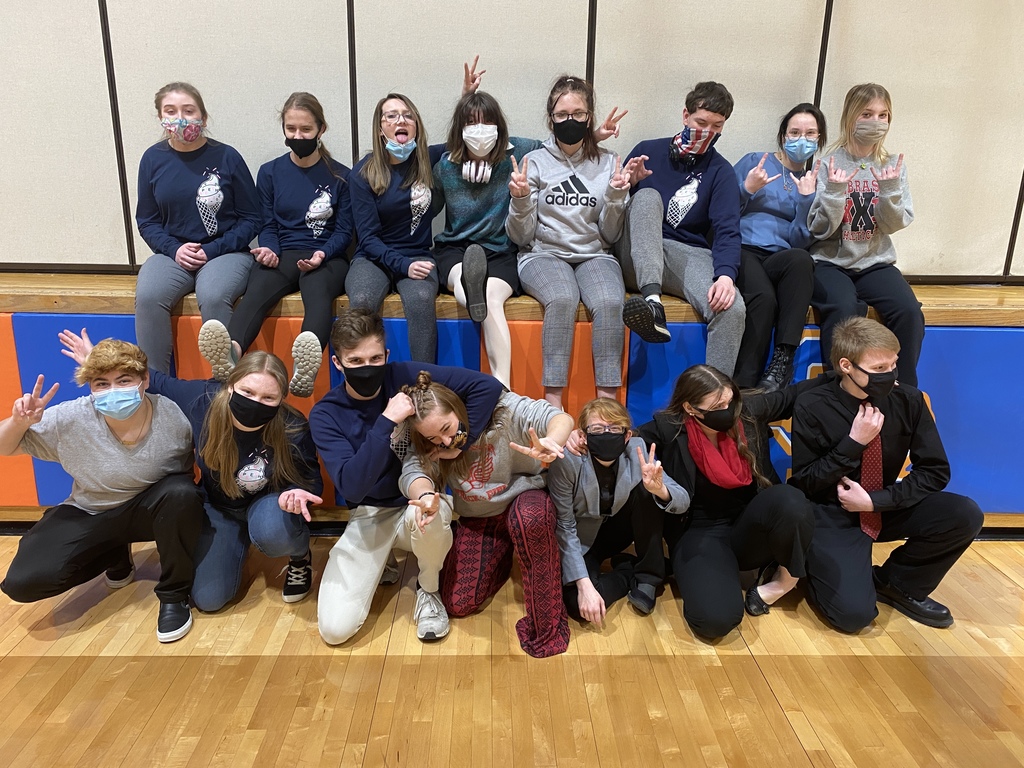 2021 Cherry County Written Spelling Bee Top Three Placings & Top 15 Qualifiers for the Oral Spelling Bee The Oral Spelling Bee will take place on Thursday, February 18, at 1:00 pm at the Valentine High School Auditorium. First Place – Kylee Hoefs, Valentine Middle Second Place – Doc Lancaster, Valentine Middle Third Place – Duncan Mosner, Valentine Middle Top 15 Spellers – First through Fifteenth Kylee Hoefs 7th VMS Doc Lancaster 8th VMS Duncan Mosner 6th VMS Robison LaDeaux 6th VMS Tanner Two Strike 6th VMS Clarrah Beebout 6th VMS Grace Murphy 7th VMS Colton Pilakowski 7th VMS Samantha Jones 8th Cody/Kilgore Justin Wyckoff 8th Cody/Kilgore Kate Johnson 7th VMS Evie Rolfe 7th VMS Aubrey Benson 7th VMS Rylie Sexson 8th Cody/Kilgore Jasper Roseberry 8th Cody/Kilgore

We apologize for the misunderstanding with Girls State Wrestling. We received an email on Sunday about the start times which indicated Friday but they really meant Saturday. Wrestling starts at 4:30 on Friday and 10:30 on Saturday.

What a generous donation from Stec Electric, Valentine Dental Clinic, and Scotty's!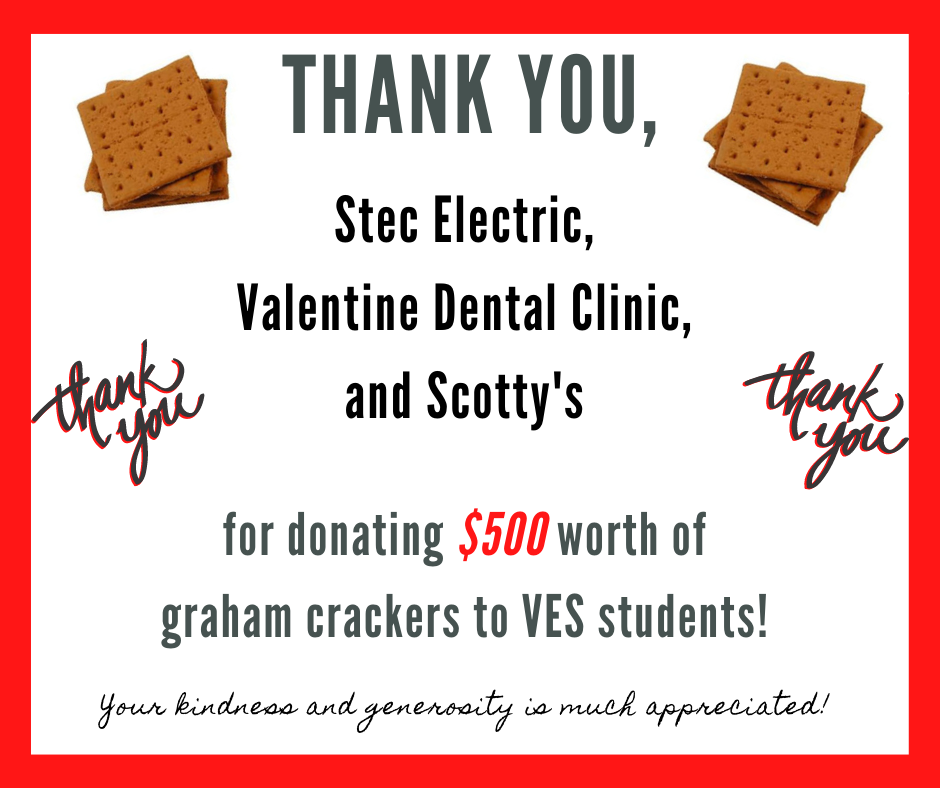 Today's MS Boys Basketball game in O'Neill has been postponed until Feb 11.

Todays SWC Varsity Boy's basketball game in Ogallala has been postponed until tomorrow at the same time 5:15 CT.

Tomorrow's girls basketball game with Ainsworth has been postponed until Wednesday due to the weather. Cozad is also scheduled to play in Ainsworth and they have canceled school so rather than having the officials come up twice from Kearney we postponed the game. Boy's game in Ogallala will be decided first thing in the morning as they didn't get as much snow and we will evaluate road conditions and make a decision.

Fan attendance for wrestling Saturday @ Ainsworth. Coach Allison will give each wrestler 2 tickets to distribute. You must present ticket at the gate to be able to enter.