VALENTINE COMMUNITY SCHOOLS FOUNDATION wants to thank all those who contributed to the Split-The-Pot Fundraiser to help raise money for scholarships. This weeks sponsor is NAILS BY BECKY. Becky Pettigrew will donate an additional $200 if the total pot reaches $300! Thanks so much for your generosity, Becky!

Krispy Kremes for sale today…we are at VHS, Scotty's, and IGA until sold out! Raspberries are almost gone! See you soon! Thanks for supporting FBLA!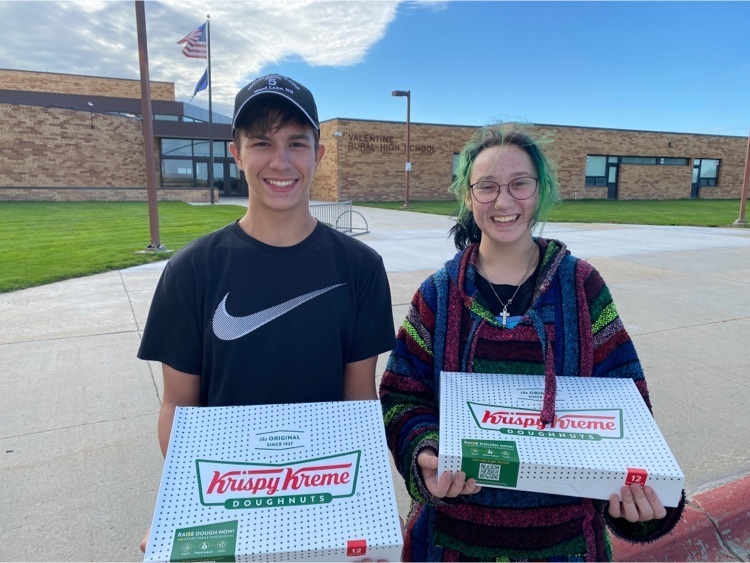 2021 Homecoming festivities are set and ready to go for next week. Students and organizations will be painting business windows this weekend. Classes will be decorating for floats and preparing their class dance. The dances will be shared via video through a survey. The group with the most votes will win free entrance to dance (<10 participants). Parade will be held on Friday at 2:30 PM from 1st and Main St to 5th street and back to the high school for the pep rally. Crowning of our King and Queen will take place at 1/2 time of the football game vs Hershey Panthers beginning at 7:00 PM. Best of Luck to all Badger teams! Go Badgers!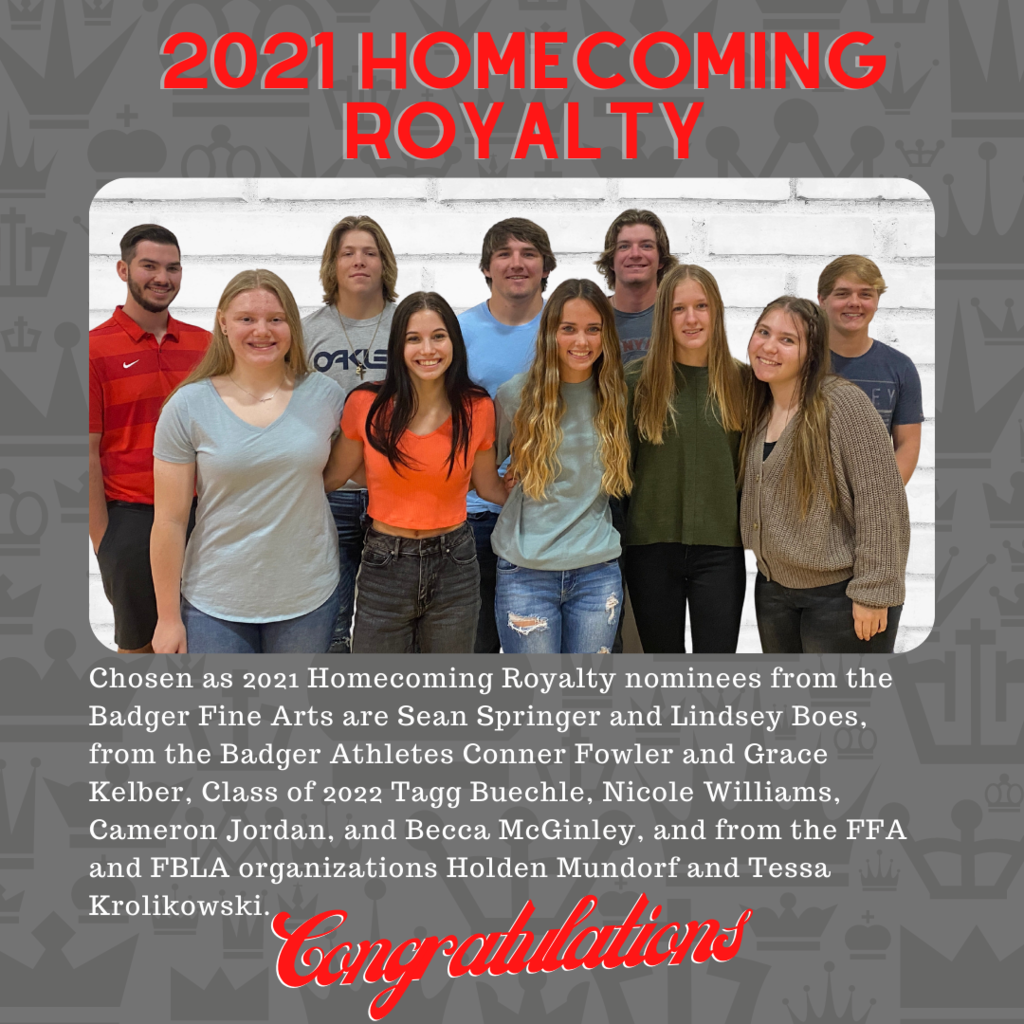 Don't forget that the VALENTINE COMMUNITY SCHOOLS FOUNDATION is doing our Split-the-pot fundraiser. This week is being sponsored by TRUE-VALUE tonight. True Value will be donating $200 to the VCS Foundation if tonights total pot reaches $300. 100% of the money goes directly to our scholarship fund. Huge thank you to Jon and Lila Miller for their tremendous generosity!!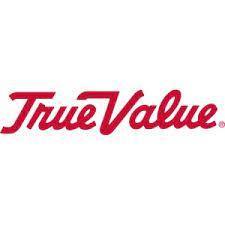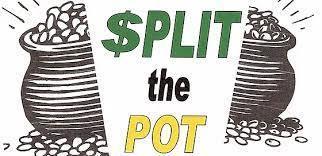 Tomorrow is the day!!! Swing by VHS to get your Krispy Kremes tomorrow after school...3:31 pm on the east side. 5 flavors sold by the dozen: Original ($11/doz), Kreme-Filled, Lemon-Filled, Raspberry-Filled & Chocolate Iced ($13/doz). FBLA appreciates your support!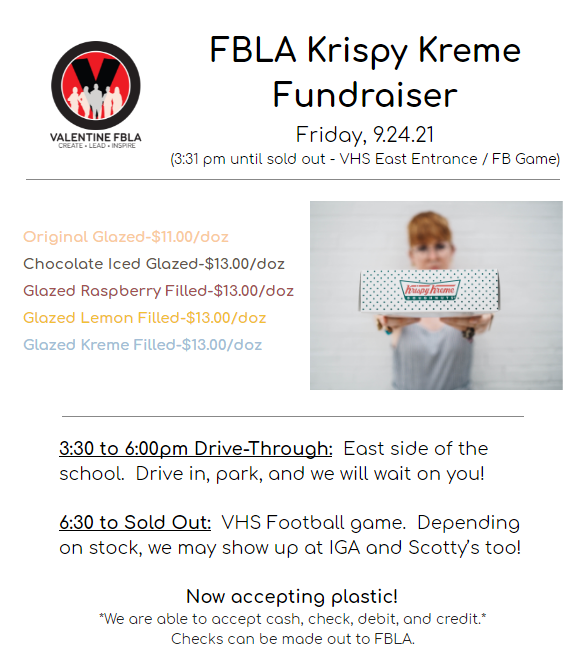 New Blankets at The Badger Den, Friday, 9.24.21!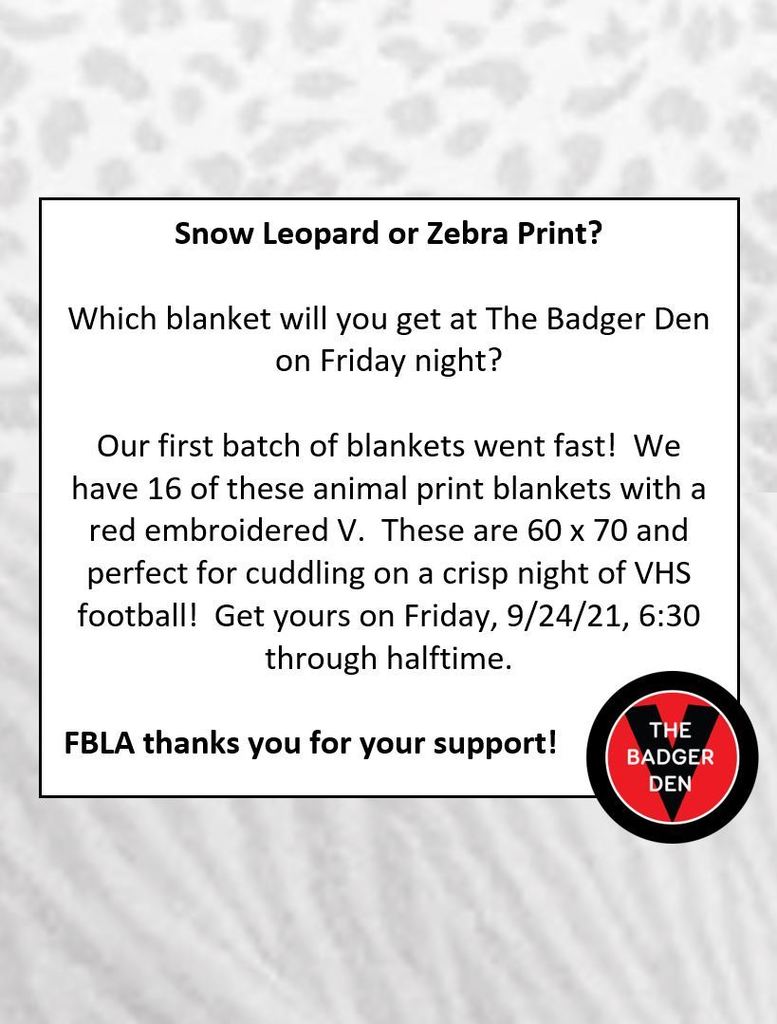 Due to TC numbers, next week's JV game is cancelled. We are looking into rescheduling possibilities.

VHS FFA is hosting a Movie Night this evening at 9 p.m. at the football field. Admission is $2, concessions will be available, bring blankets and chairs. Movie showing is "Night School", it is rated PG-13 but open to all community members.

VALENTINE COMMUNITY SCHOOLS FOUNDATION is doing another Split the Pot fundraiser this Friday evening during the football game where the Badgers take on the visiting Chase County Longhorns. VCS Foundation raises money for scholarships for graduating students of VHS. They also pay tuition for all students who take dual credit courses through MPCC! This week True-Value of Valentine will donate $200 to the VCS Foundation if the pot reaches $300!!! Thanks to Jon and every body at True-Value for their generosity in helping our students make college more affordable!!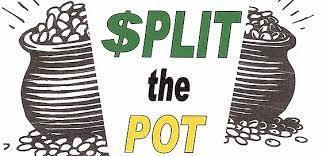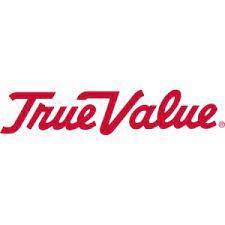 The Badger Den just got in these super cute, super soft game day tees! Regular (unisex XS-4XL) and crop (women's S-XL)! We will be open at the VHS football game on Friday (9/24/21) night starting at 6:00 pm through half - time. Grab a tee and some Krispy Kremes!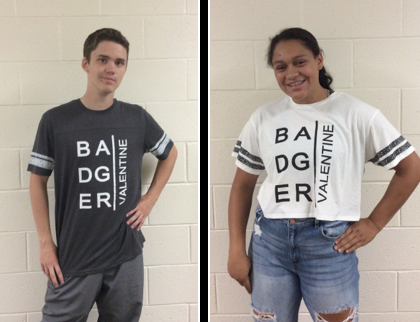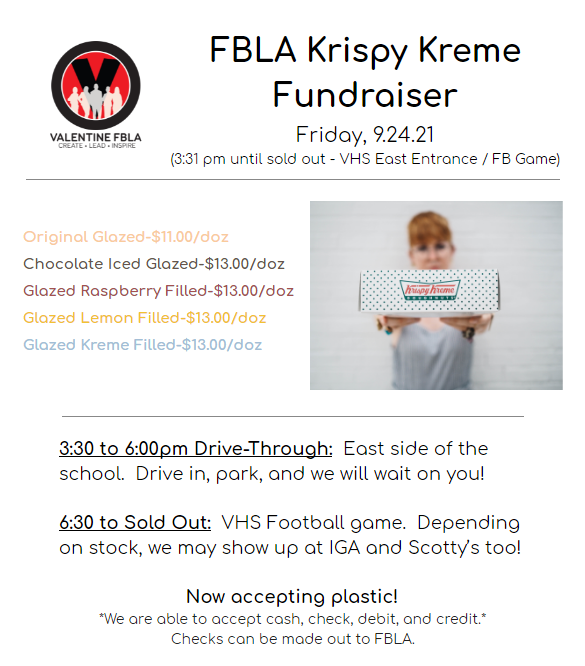 MS Girls and Boys run together, first at 5:00 CT in Gordon on Thursday, September 23.

Valentine Volleyball Tomorrow: McCook the games available on our McCook Bison TV which can be found on mccookbison.org and going to the quicklinks at the top right side of our webpage. There will be an option for selecting the high school gym or junior high gym.

One more week! Next Friday, 9/24/21 is the day - we hope to see you from 3:31 until sold out at VHS. Sorry, delivery is not available. The good news is that we can now accept plastic and touchless payments!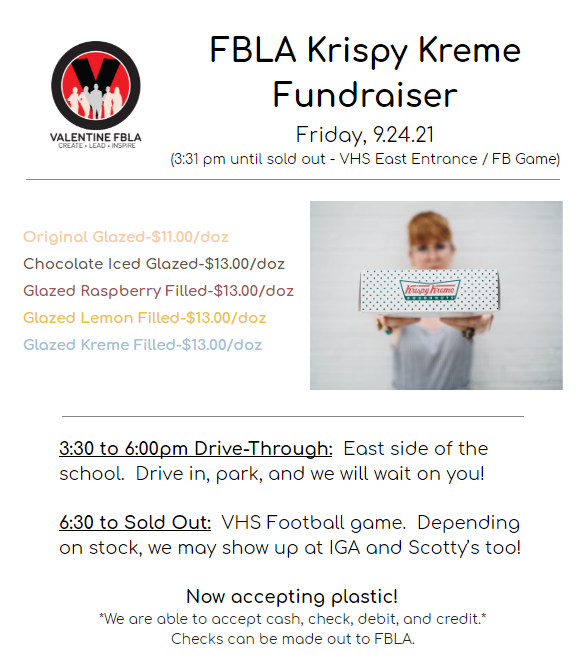 Valentine team placed 4th out of 14 schools with a 392 Medals 11th Mekallyn Bancroft 91 14th Kaetryn Bancroft 96 Jaycie Cox 101 Becca McGinley 104 Nicole Williams 115

​​Valentine Elementary School uses PBiS Badger Expectations as a school-wide system for setting expectations and managing behavior. Students are recognized for showing appropriate behaviors and can earn a badger paw or positive office referral for a special reward. VES focuses on one area of expectations in the building per month. This month, we are focusing on expectations in assemblies, which can translate to overall expectations at large gatherings such as football games. These expectations include things like sitting and keeping hands to ourselves, listening to adults, etc. To kick off the month, we held an... assembly! Our assembly consisted of students getting recognized for a positive office referral or badger paw, learning about and practicing our assembly expectations, and also chanting our VES cheer that the VHS cheerleaders helped create for us a few years ago- Badgers stay safe, Badgers show respect, Badgers are responsible! Attached to this post is our behavior matrix. Good job, VES Badgers!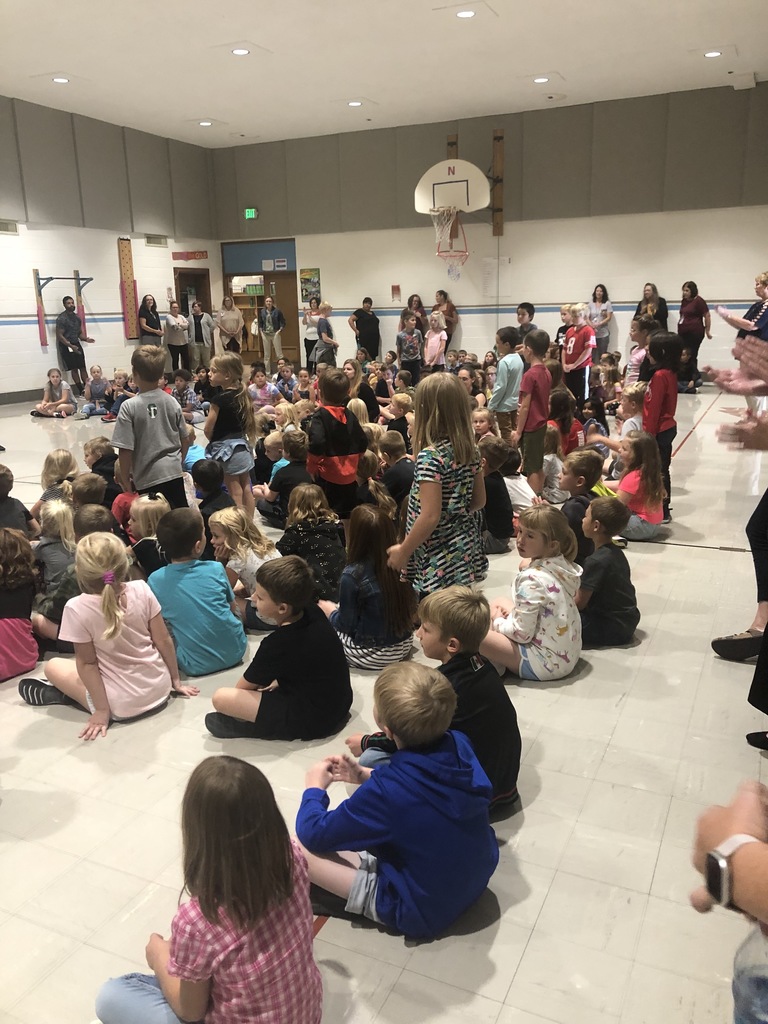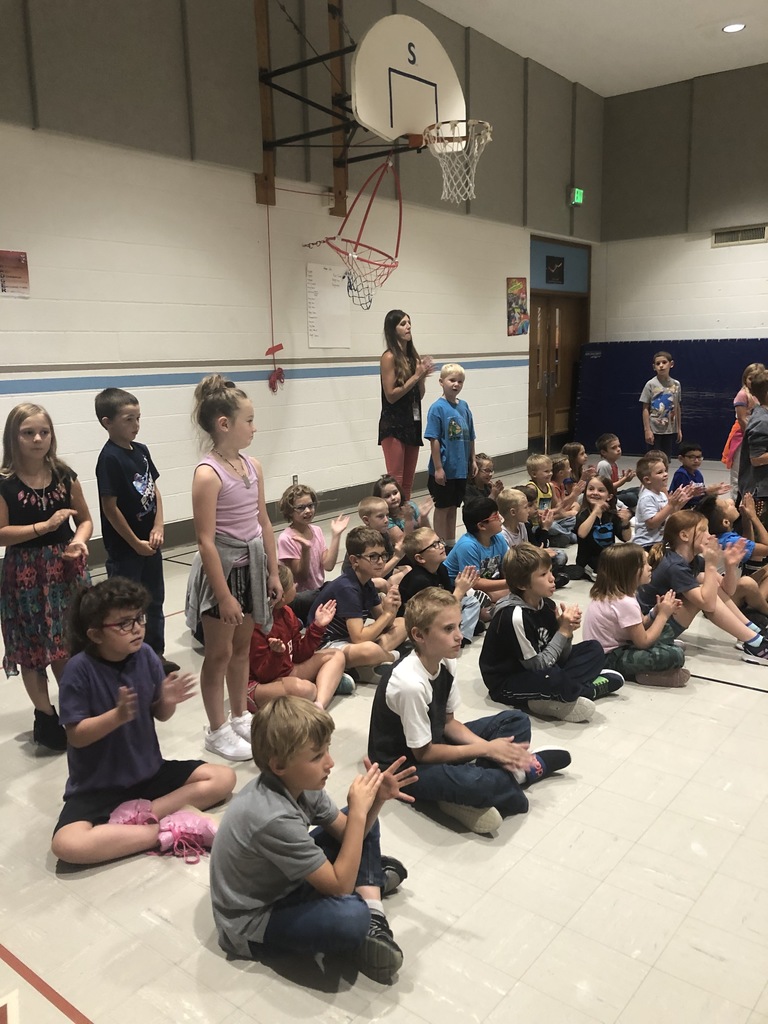 Student Council has been gearing up for Homecoming 2021!! 👑Dress up days, parade on 10/1 at 2:30 with pep rally to follow, and crowning of king and queen at half time of football game vs. Hershey Panthers. Go Badgers!! 🦡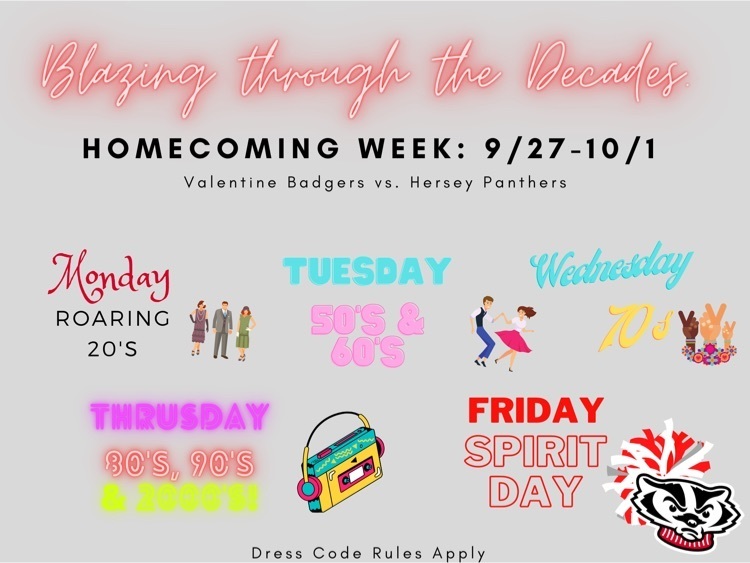 Last Friday's game ball was presented to the Referee by Badger Paw winner Royal Foote. Royal is a 4th grader at Valentine Elementary School and is the son of Ciarra Foote. ​​Valentine Elementary School uses PBiS Badger Expectations as a school-wide system for setting expectations and managing behavior. Students are recognized for showing appropriate behaviors and can earn a Badger Paw for a special reward. Of these students who earned a Badger Paw Royal's name was drawn as this week's ball boy who will present tonight's game ball. Check out VCS Facebook page to see the latest Badger Paw recipients!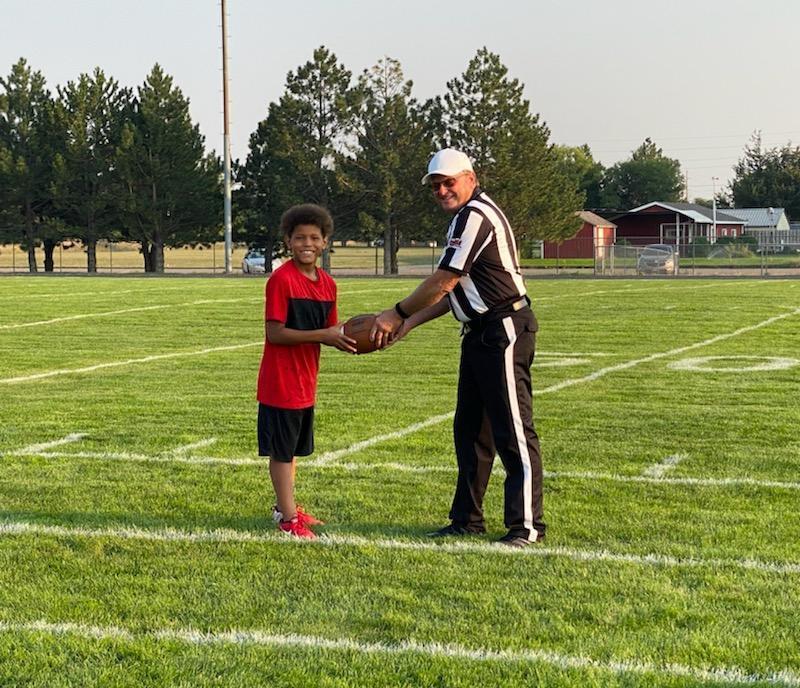 Today's VB MS-CORRECTION--Sandhills-Thedford B and Valentine B will start @ 4:15 pm today.

A set of keys was found outside the auditorium doors at the high school Sunday night. Please call the high school and describe to claim.

VES parents/guardians, tomorrow is picture day for preschool through 4th grade students. Packets went home last week!