News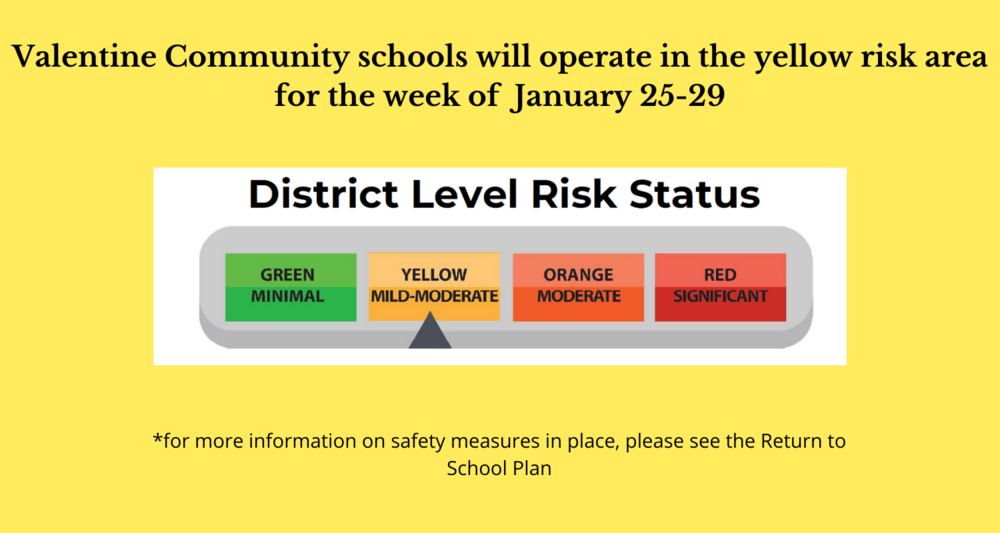 Valentine Community Schools will be operating in the yellow risk level the week of January 25- 29. Click here for the Return to School Plan.

Lunch: Pizza, BBQ Chicken Sandwich, Baby Carrots, Green Beans, Milk or JuiceVMS Student Council Badger Pause Graham Cracker Drive: Bish 0; Breuklander 1; Cronin 0; Dredge...
ANNOUNCEMENTS January 22, 2021 Lunch for today will be: Fresh Baked Ham & Turkey Sub, Cheese or Pepperoni, or Toasted Sausage Biscuit Sandwich, Baby Carrots,...
SEE ALL NEWS
LIVE FEED

Alana Cardinal
about 6 hours ago
Broken Bow (Virtual) Speech Meet Results Varsity: James - 4th Inform Taylor - 10th Poetry Grace - 11th Extemp Novice: Caitlynn - 8th Hum, 6th Ser Bella - 6th Hum Finley - 6th Extemp Kaylee - 10th Ser Makenzie - 11th Ser view image

JJ Thorpe
1 day ago
VMS NWEA Winter MAP testing starts Monday, Jan. 25 for the next few weeks. You are encouraged to talk to your student about ensuring a healthy breakfast, prioritizing a good night's sleep, along with a positive attitude to give their best effort!

Gus Brown
1 day ago
Next Week in Badger Nation: Monday SWC 1st Round Boys Basketball @ Ogallala 5:15 - will be live-streamed at: https://www.youtube.com/channel/UC4htdBIEkyMyYdzUFzEdypA No attendance restrictions Girls Basketball@ Ainsworth 6:45 - will be live-streamed at: https://youtu.be/Mbg1kPS7z6k No attendance restrictions Tuesday MS Basketball @ O'Neill @ 5:00 - Live stream will be on O'Neill High School Facebook page. No attendance restrictions Wednesday - Mock Trial - virtual Thursday - MS Boys Basketball @ Ainsworth @ 6:00 pm. Will be live streamed at: https://youtu.be/Mbg1kPS7z6k No fan restrictions. Basketball - SWC Consolation Games - TBA Friday Basketball SWC - Semifinals in Kearney - TBA Girls State Wrestling @ York - 4:30 pm - attendance TBA JV/V Wrestling Dual vs Sidney - 6:00 - Parents night - No attendance restrictions. Saturday Basketball SWC Finals - TBA JV/V Wrestling @ Ainsworth 10:00 - Livestream @ https://youtu.be/Mbg1kPS7z6k Attendance to be determined closer to the tournament. MS Boys Basketball Tournament - 10:00. "A" team at MS and "B" team at HS. Speech @ Gordon Rushville - TBA

Alana Cardinal
2 days ago
The Badger Den will be open Friday, 1/22/21 at VHS from 5 - 7 pm during the Broken Bow basketball game. Treat yourself to some Badger gear. Remember...Valentine's Day is only 3 weeks away! view image

Gus Brown
3 days ago
Today's girls JV game with Stuart has been canceled due to lack of numbers for Stuart. The girls varsity game will start at 6pm with the boys to follow.
SEE ALL POSTS