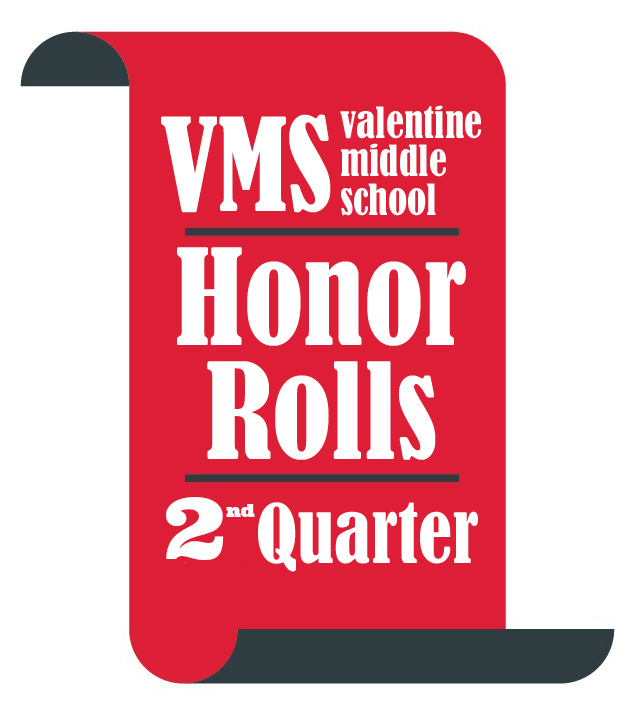 VMS 2nd Quarter Honor Rolls
Valentine Middle School
Wednesday, January 16, 2019
Way to go VMS honor roll students! Keep up the hard work and great job!
2018-2019 Second Quarter Honor Rolls:
6th grade High Honor Roll: Brayden Battershaw, Autumn Brackeen, John Lloyd Fulton,John Gibson, Cooper Jordan, Emma Kreutner, Doc Lancaster, Titus Maunu, Emma McMurtrey, Cadence Swanson, Taryn Tinant and Marybelle Ward.
6th grade Honor Roll: Kennedie Assman, Courtney Billings, Neeley Cronin, Clayton Elliott, Jocelyn Jordan, Cinch Miller, Thane Taylor and Talia Wenig.
7th grade High Honor Roll: Kaetryn Bancroft, Grant Boes, Ciana Colvin, Traven Fletcher, Kaylee Hanson, Caden Hein, Coby Higgins, Sadie Johnson, Nadaya Johnson-Mooney, Jessa Klabenes, Mitchell Kluender, Lex Larsen, Alexis Long, Caitlynn Mack, Mataya Morrison, Finley Mosner, Zoe O'Keefe, Sadi Osnes, Alivia Patterson, Dane Pilakowski, Isabella Ringhoff, Grant Springer, Preston Stoeger and Hailey Witte.
7th grade Honor Roll: Ariana Blume, Kinsey Buechle, Abbigail Grooms, Johnathan Kruger and Tyler Whiting.
8th grade High Honor Roll: Ashlee Bacon, Mekallyn Bancroft, Taylor Battershaw, Hanna Bitner, Jaycie Cox, Lainey Egelhoff, McKenna Elliott, Bryan Keller, Connor Kreutner, Jack Lancaster, Ashton Lurz, Lee Major, Grace Maunu, Teylor Mehrens, Casey Miller, Malika Monroe, Logan Muirhead, Nathan Perrett, Jackson Ravenscroft, Taycee Reimers, Sheldyn Rodgers, Kennadi Ross, Catherine Salters, Gavin Sandoz, Alyssa Schubauer, Cole Simon, Gracey Taylor, Logan Witte and James Woodraska.
8th grade Honor Roll: Cael Colvin, James Holmes, Austyn Kieborz, Logan Mayhew, Kristeen Stanley, Kadon Wenig, Payton Witte and Tanner Yager.