BADGER BOOSTERS' WEB SITE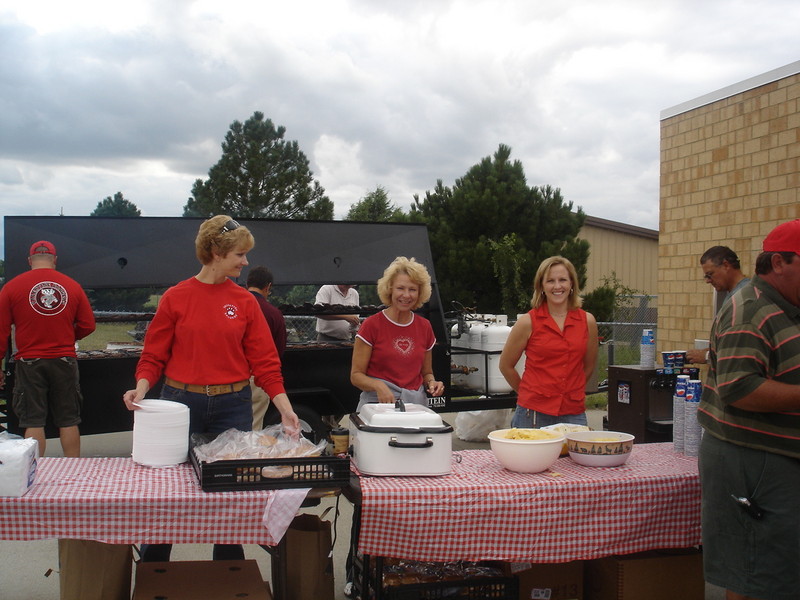 Badger Boosters serving hamburgers at the football scrimmage.
WHY NOT JOIN BADGER BOOSTERS?
Everyone's welcome to help boost our Badgers!
What is Badger Boosters?
It is a Booster Club dedicated to assist ALL athletes at Valentine Rural High School.
How can I be a part of the Badger Boosters?
Membership is available to everyone: individuals, couples, or a business. There are variable fees depending on whether you're a person, couple or business.
Can I be a member even if I don't have a high school student yet or anymore?
Absolutely, we welcome anyone to be a member. We know how important it is to the athletes to have a fan base following and supporting them with every competition.
When do the Badger Boosters meet?
Boosters meet in the high school commons area September through April on the second Wednesday of the month at 7:15 p.m. All members are encouraged to attend so planning can be made for any events to come. The meetings are short and to the point, about 30 minutes total time.
What can I do to help as a Booster?
You can be a Booster Sport Parent to help coordinate food for that sporting season. Parents are needed for each sport: Golf, Cross Country, Volleyball, Football, Basketball, Wrestling, and Track to work with Athletic Director, Mr. Brown who knows what the travel needs are for that season. You can volunteer to help with the annual Gatorade scrimmage hamburger feed, coordinate the concession stand for JV Football/Valentine Track Invite, or suppers after the game for the opposing team by soliciting food and helpers. Be a volunteer for the business and membership drive, half-time free-throw contest during basketball games or with the 50/50 raffle. These are a few of the fund-raisers that are done every year.
Who are the officers of the current Badger Boosters?
President: Sara Ferguson, Vice-President: Dona Valentine, Secretary: Michelle Cate, Treasurer: Tracy Lamb. Athletic Director, Gus Brown and coaches also attend the meetings with any needed requests. All members are welcome to attend and become involved as a booster.
The athletes are provided food for four away sporting events. Often it is the only meal they get when they are gone for long bus rides. Boosters help purchase equipment and uniforms for various sports teams as the need arises. The senior posters, which started last year and that hang on the gym wall, are given to the seniors at the annual athletic banquet. The annual athletic banquet, which is held each year to honor senior athletes, as well as all other high school athletes. Boosters also honor the Fan of the Year with a gift of appreciation. This year the Boosters hosted a reception to honor the Badger Wrestling team as they brought home the Class C Championship. Boosters also provide a meal to the Southwest Conference schools that travel over three hours to compete in Valentine during the basketball season; their boosters do the same for our team when we travel to their towns.
Badger Boosters want the athletes to know how much we support them in each game; we have Badger loot for the fans to purchase to add spirit and enthusiasm to the crowd. We have a float for homecoming, sponsor various spirit contests, provide flowers for the candidates, crowns for the royalty and gifts for the candidates. In past years, the Boosters purchased Victor E Badger's mascot suit, a popcorn machine for all organizations to use in the concession stand, and Badger flags for the football stadium to fly at each home game.
After reading this through we hope you have a better understanding of what a BIG part Badger Boosters play in assisting our high school athletes. It is very rewarding to know you made their athletic experience, here in Valentine, one to remember.
If you're interested in becoming a Badger Booster contact Sarah Brown at 402-376-6054 or attend one of the upcoming meetings.