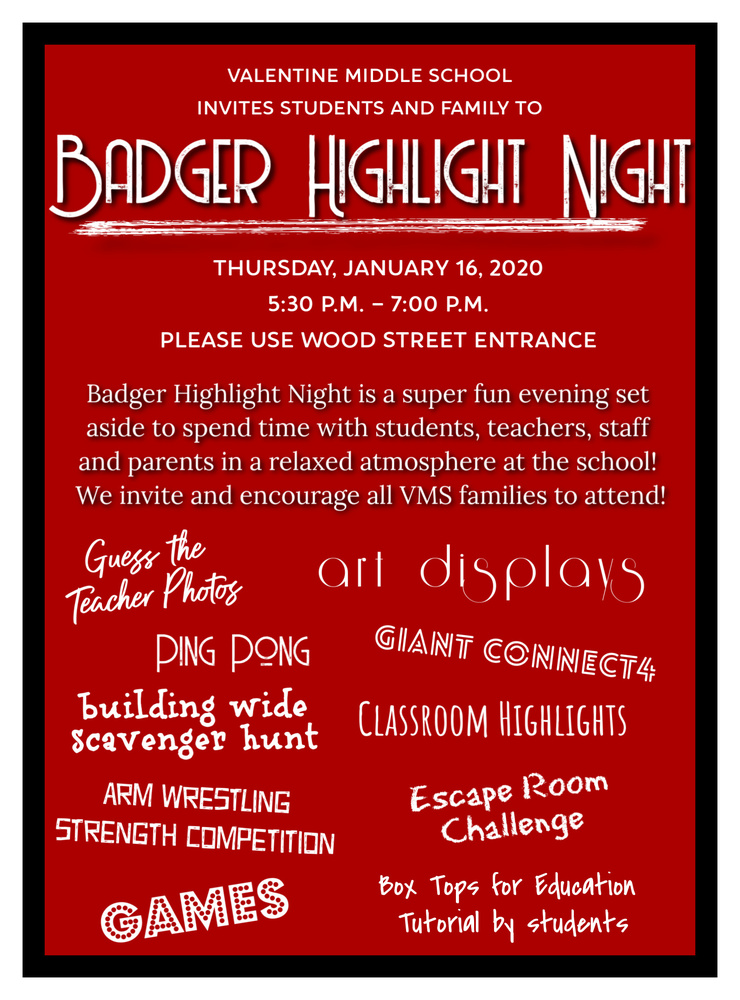 VMS Announcements 01/15/20
VMS
Wednesday, January 15, 2020
Lunch: Traditional Beefy Lasagna, Pork Fritter Sandwich, Golden Corn, Fruit & Veggie Bar

Auditions for the 6th grade play will be after school tomorrow and Friday of this week. A sign up sheet is located by room 1.

Badger Highlight Night will be held tomorrow night at 5:30 p.m. to 7:00 p.m. Badger Highlight Night is a super fun evening set aside to spend time with friends, other students, teachers, staff and parents in a relaxed atmosphere at the school with a ton of games and activities! Plan to attend!

VMS Boys Basketball will be having a walk through/practice in the VMS multi-purpose room after school Friday until 4:30 p.m.

VMS Boys Basketball will be traveling to Chadron this Saturday for their first game. Teams will be departing at 9 a.m. CST on Saturday morning. Games will begin at 12 p.m. CST. 7th grade will play at the middle school in Chadron and have 2 games, 8th grade will play at the high school in Chadron and will also play 2 games. Good luck Badgers!

The VMS Student Council is hosting a Kindness Drive competition with a goal of donating 150 boxes of graham crackers for the Elementary School. If VMS can reach the goal of 150 boxes, all Badger Pause groups will get an extra food/celebration day! Graham crackers or money to purchase graham crackers needs to be brought to the school by February 14th, there is a table set up in the multi purpose room.

TeamMates will have mentor/mentee hot cocoa and s'more social today at 3 p.m. in the middle school gym lobby. If you are a mentee in the TeamMates program, you will be excused at 3 p.m.