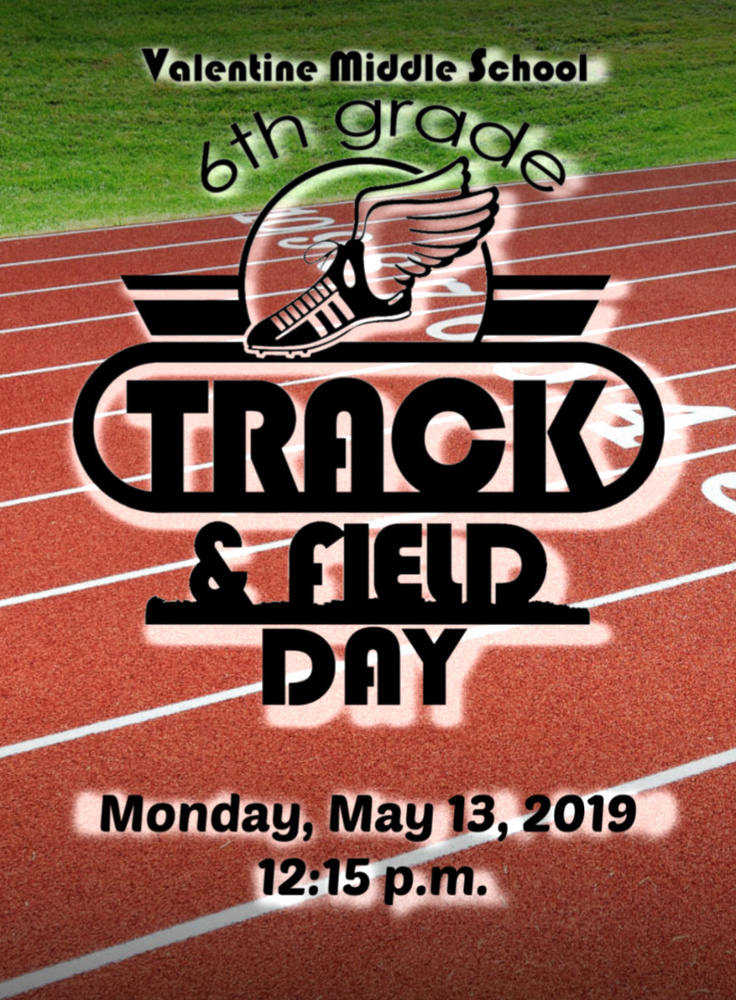 VMS 6th grade Track & Field Day 2019
VMS
Tuesday, April 30, 2019
Valentine Middle School will be having a track and field day for 6th grade students on Monday, May 13th, starting at 12:15 p.m. at the VHS track; concluding around 3 p.m. This is in culmination to the introductory track unit they have been learning in Physical Education classes. Each student has signed up for at least 2 running events and 2 field events. This is the 3rd year for this track meet and the length of the meet is still a work in progress. Parents are welcome and encouraged to come and watch their child participate!
Students will eat lunch at the middle school and then walk to the track with their teachers. Items students may need for the meet include the following:
Sunscreen, Ball Caps, Sunglasses
Water
Healthy Snacks
Sweats or Rain Gear in case of inclement weather
Appropriate shoes for running
Shorts and T-shirt for participating
***There will be NO rain date. If it rains that day, there will not be a make up date.***
ORDER OF EVENTS: (all times are approximate)
Field Events

12:15 p.m. Boys Long Jump; Girls Softball Throw; Boys Frisbee Throw
12:45 p.m. Girls Long Jump; Boys Softball Throw; Girls Frisbee Throw
1:15 p.m. High Jump
1:45 p.m. Sack Race
Running Events - 1: 50 p.m.

1600 Meter Run
100 Meter Dash
400 Meter Run
200 Meter Dash
800 Meter Dash
4x100 Meter Relay - every student!